What's it like living in Greenwood?
The Village of Greenwood is located in the Annapolis Valley, about an hour and a half drive from Halifax. With just over 5,000 people, most of the residents here are connected to 14 Wing Greenwood, the largest air base on the East Coast.
Nearby, the Village of Kingston is just a five-minute drive away, and people often believe the two Villages are one town, but they are separate. Between the two is Stronach Park, a picnic park with water fountain, garden areas ducks to feed, and a 1.5km family fitness trail.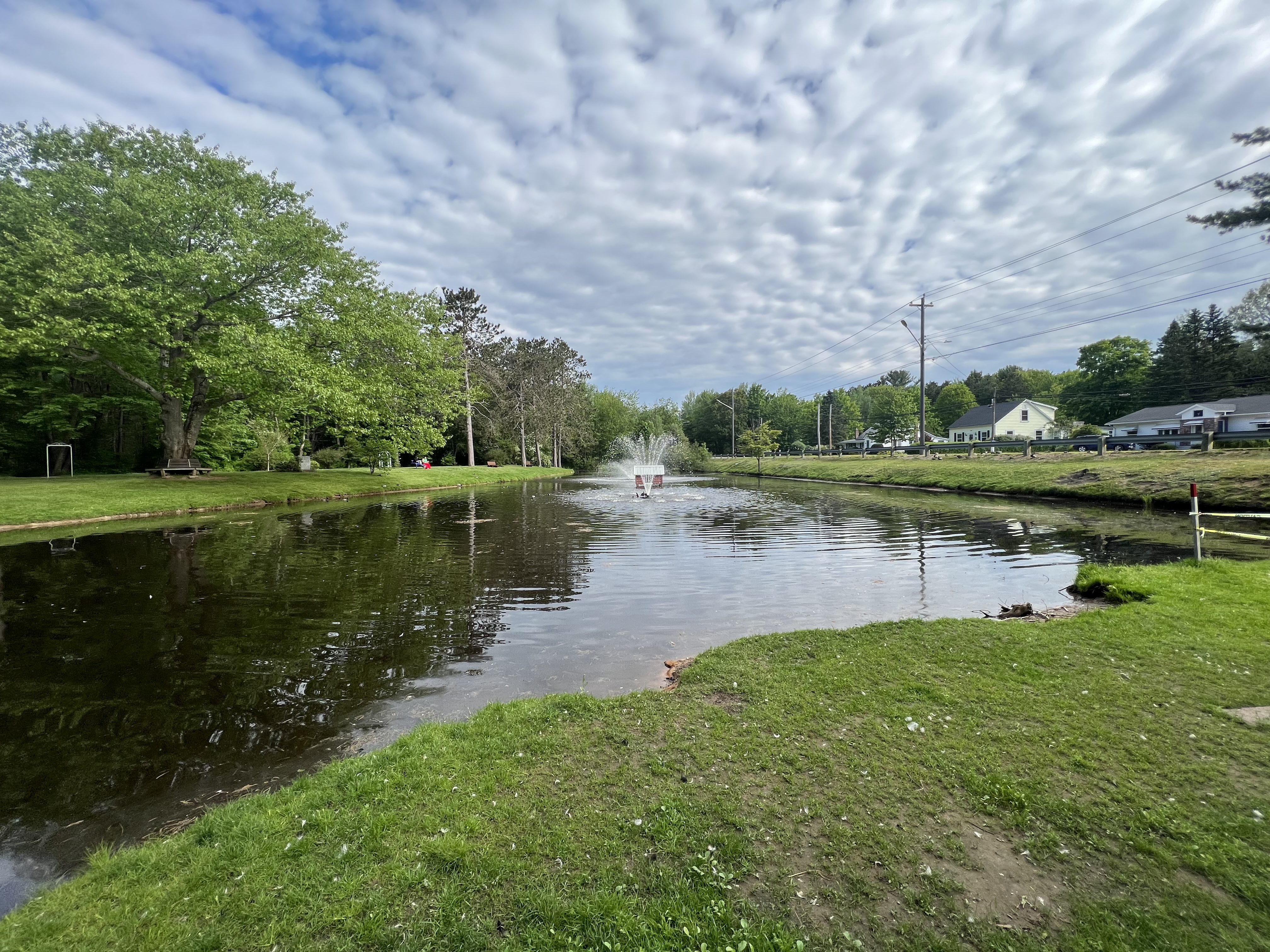 I'm here in the village centre, where there's a variety of stores and restaurants, including clothing shops, hardware stores, and more. There's a hair salon and a barber, and you can find personal services like a dentist and a vet right in town. There's a post office, bank, grocery store, and an Avery's Farm Market plus many other businesses. Greenwood also has a small mall, with shops selling home goods, clothing, electronics, and more. Across from the mall is Inside Story, a great independent bookstore. Greenwood is home to some of the larger chain stores and restaurants on this side on the Valley.
The economic driver in Greenwood is the military base. Many of the services and facilities on base are available for non-military personnel to use, such as the recreation centre with a gym and pool, the single-screen movie theatre, the arena, the skate park, and the bowling centre.
Like most small communities in Nova Scotia, there are weekly bingo nights at the local halls and community centres, cold or hot fundraising suppers, live music nights, and more. There are numerous churches in the area too. If you enjoy golfing, the Greenwood Golf Club is close by. Nearby Fales River Trail is a 2.1-km loop trail popular for walking, birding, cross-country skiing, and fishing.
Let's switch gears and go over some of the necessities – housing, health care, schools, employment, and transit.
Much of the housing in the heart of Greenwood is for the military families stationed at the base and are referred to as PMQs. Most of the non-military housing for the village is located on the outskirts. Greenwood offers homes that encompass a wide range of styles and price points. From executive homes to standard suburban-style homes to farmhouses in need of significant repair, Greenwood has it all.
Base housing and non-military housing in the Village are connected to municipal water and sewer. In the winter, the roads are plowed pretty reliably in Greenwood, but if you purchase land on a private road, you and the other road residents will be responsible for arranging and paying for your own road maintenance, and snow clearing.
Unfortunately, there isn't a medical clinic in Greenwood. For medical care, you'll need to travel to Soldiers' Memorial Hospital in Middleton, about a 15-minute drive away. Unfortunately, more than 10% of Nova Scotians are without a doctor, and it's important to keep this in mind if you're considering moving to a rural area.
There are two schools in Greenwood, Dwight Ross Elementary School for students up to and including grade 5 and École Rose-des-Vents, a francophone school serving students K to 12. English students will attend West Kings District High School.
You can typically find a job in town on the base, or at one of the retail stores or restaurants, or another small business. Some residents of Greenwood commute to Waterville to work at the Michelin plant, or to the industrial area surrounding nearby Coldbrook.
It can be difficult to get around rural communities without a car, but there is public transit in Annapolis and Kings County on major routes. The Kings Transit bus connects Greenwood down the Valley to Bridgetown, and up the Valley to Grand Pre.
That's it for our tour of Greenwood, Nova Scotia. Be sure to reach out if you have any questions.